Vote your Hero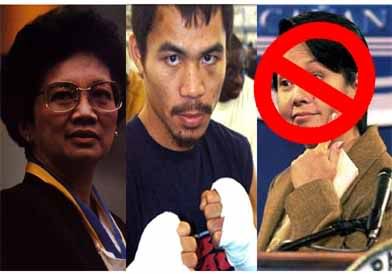 You can vote for your favorite Asian Hero in Time Asia's website. The candidates are (drums rolling) post-Marcos savior former President Corazon Aquino, boxing champion Manny Pacquiao, and "Battered but Unbowed" Gloria Macapagal Arroyo.
Battered but Unbowed. Hmm. What words to describe a president who doesn't give a damn about popular opinion, oblivious of the reality of what's happening outside Malacañang, and disowned by majority of her people. We have a president who's both blind and deaf. No wonder she seems unbowed.
By the way, you can submit your votes
here
. My "+1" vote goes for Manny. If there's a way to submit a "-1" vote for Gloria, please tell me.