Addicted to webcomics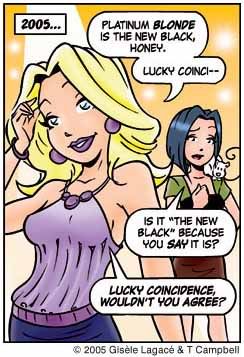 Awww... I just hate and love it at the same time, when I find somebody else has already made my wildest ideas come true.
I'm currently addicted to
Penny and Aggie
. No, they're not the latest versions of Skittles. They're two girls who live reality as how I'd live it.
See? I can totally relate to both... uh... Aggie most of the time. A natural poet who writes based on unpredictable mood, yet always mistakened as a Filipina dumb-blonde prototype. Fashionista, at times. Yet, expresses anger to the world most of the time through mastery of the wardrobe. And most of all, they're both dying to meet their knight-in-shining armor, yet are willing to do the most death-defying stunts to conceal this female weakness. A smart webcomic about being clueless. Girl power!! Teehee...