I Dream of You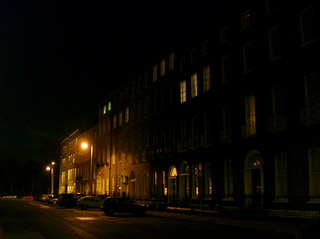 This morning, I woke up with tears flowing down my cheeks and a sinking sensation of immortal despair. I've never had an experience like this before. Was I crying while I was sleeping? Was that possible?
Then it just hit me: I had a dream. Confused, I couldn't understand nor remember it fully the first time I thought of it. I approached the window, sobbing. It was still dark. It was just two o'clock in the morning. I was graced by the gloomy light from the brick pathway adorned by little lamps. The world was still deep in slumber. I was alone.
Slowly, small bits of that dream came into recollection. Suddenly, I was crying again, silently.
Yes, the dream was about
you
.
And in the dream, you were looking for someone who would keep you safe from harm. You came from a far away land where the world had severely impaired your soul. You were searching for sanctuary, and you came to me.
It was seeing you again for the first time. I could still feel the ecstasy while seeing you approaching me, smiling at me with those sad eyes, telling me how long you've searched for me. Happiness. No amount of heaven can ever exceed the bliss I felt when I felt your arms again. I can hear your voice once again. I can feel you breathe again. We were together again...
I kept you in a place where no harm can touch you. Somehow, we managed to find the house I was dreaming of for the longest time. The castle in the sky. But I never thought of being home in that castle until I saw you in it. It was like paradise in a box... a dream house that I can call "home". And it's been a long time since I felt like "home".
Life went by, and I kept on returning to that place. I always see you standing by the balcony, looking at the sunset. Your nearness so overwhelms me that the thought of it makes my heart beat hard until it almost bursts. Oh! You were so close to me. You needed me only and if only I could spend the rest of my life in fantasy.
Hours went by, I can now feel the warmth of today's sunrise. But I still feel like staying in my room, where I can cry silently while dreaming the dream again and again...
You
never fail to make me crazy, even in your absence. It was a dream brought into being by a should-have-been reality, yet I feel so sad waking up to reality. If only there is a way to go back. If only there is a way to return to
you
.
I never thought I could miss someone like this before.