Sadness reigns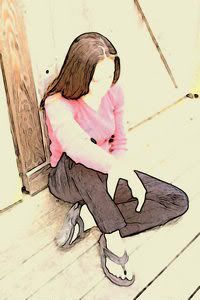 It's true that finding out your dreams have come to an end even before it's realization means only one thing- endless hurting.
From now on, my unconditional affection for him is considered a sin, an act that will not be allowed in the eyes of God and men. The thought that even God would now disapprove of something that I have been holding on for the longest time haunts and hurts to the deepest reaches of my soul.
That's how it feels when you learn that you've dedicated more than everything that you are and you will be to someone with whom you are not really destined to be with after all. The future becomes uncertain. It's like tomorrow is just pitch black. The drive to live is somehow severely weakened. You can't go out, you can't move. You cease to hear or see anything, because you don't want to- everywhere you see blurred memories of being loved and happy. Then, as these memories fade, you feel helplessly alone.
Elmo is going away. For good. Although this is the end that I knew would come even before we first separated, I never noticed that it would be so soon. Perhaps I was hoping that this end wouldn't come at all, although inevitable. Perhaps this is how fools are. Hoping for the inevitable's opposite. I am a fool, and perhaps I will be in the next years to come. I knew time would come that I would have to move on. Move on without him. Move on by letting go of him. Move on knowing that we traverse separated paths now. The hurting is tearing me apart as days go by.
Forget about him and move on. This is what most of my friends would say. I understand how easy for them to tell me that: They don't know much about Elmo and I. Fact is, only a handful of people knows about us being "us". It was a love story that never really started, and never really ended until recently.
He was just a close friend singing on stage with his band/barkada one fun night in 1997 in UP's Narra dorm. I was just a fan (and the band's only groupie) cheering for him on his first attempt to perform in front of a live audience. Holding his lyrics sheets, I was lypsynching the lines for him, as he looks down to me from the stage, worried that he might forget his line, but confident since he knew I was there as his living cue card.
"Will it ever be alright
To ask you where you spent last night
And can it be polite
The way we never write,
Of course I don't have the time,
And anyway I'm fine
If I should tell a lie
I'll cross my heart and hope to die..."
It would have lasted as a great love story. It would have ended happily.
The memory of those teasing eyes staring at me continues to clutch my hurting soul in moments of stolen silence till now, and for the rest of my life.
It's quite ironic that Elmo's going away for good on the 11th of June... the next day would be Independence Day... unwanted freedom.