HAPPY BIRTHDAY, BITCH!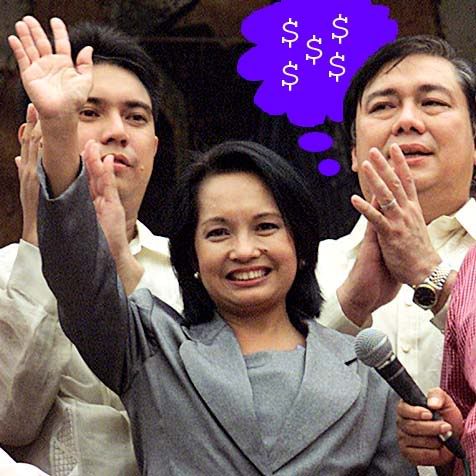 Happy birthday to the most imbecile president ever to serve the Philippines... if that's how you call "serving". And what better place to celebrate her birthday than in Lubao, Pampanga- her town, her province, Gloria's kingdom. She has a point, though. It's her birthday. You'd definitely want to hear nothing but praises on the most special day for the president, right? I mean, it doesn't matter if you're scheduled to go to Rome and be the representative for the only Roman Catholic country in Asia, to take part in a great Pope's burial rites, right? It's her birthday, for crying out loud! Everybody would want a vacation when celebrating birthdays, right? No need to think the rest of the country, she has to go to Pampanga and celebrate! Forget the starving country, forget the disintegrating foundations of the nation- she needs to celebrate with her pig husband, right? Right?
Most of those who voted for the great Gloria should be nibbling their nails out of immense dismay by now. Look at the "glorious" things her administration has brought to her beloved country by now. She had come up with "reforms" most insignificant to the present needs of the country. (Four days of work?!?!) She has sold almost all services to the private sector, and is planning to sell more in the months to come. She has allowed the commercial fuel giants to dictate the economy according to how it pleases themselves, thus rendering any regulations and laws ineffective and useless, and thus, adding loads of burden week by week for the poor Filipinos.
She has allowed a silent war to reign in the south, and poverty to reign all but a few from whom she owes her status (whereas she seem to disregard the fact that she owes not the rich few, but the many who voted for her, and were foolish enough to trust her words). She has done no significant actions against corruption in the government- a social factor that is the root of all evil in this country, and a promise broken again and again yet leaves the president unaffected. Unaffected, also, is this stout woman after being hailed as the leader of the second most corrupt government in the world! Numb, even, is Gloria, after several attempts by the common tao to communicate with her their woes and regrets after her pre-electoral covenant with the people had been deliberately ignored and/or broken. She has lied to her people, not only once, but many times, even prior to being elected as president.
Based on my observations on how Filipinos think about the condition of the country nowadays, every aspect of this society is basis enough to conclude that we are nearing civil war. Heard from a usual conversation in an internet cafe (by students not more than 18 years old), if Fernando Poe Jr. would have had the fatal heart attack while he was on a rally with the masses, or in a court appealing for Gloria's resignation, a revolution would have resulted immediately after his death. Ninoy's death triggered anger amongst Filipinos angry of the Marcos system, but it happened years after the tarmac tragedy. God forbid, if anyone who has the people's affection dies in the streets, another revolution would surely follow. And without the support of the military spoon-fed by the government nowadays, the only people capable of helping are those in the lower ranks- those who follow the footsteps of the REAL soldiers who led the washed out Oakwood mutiny.
I know she knows about all these- but does she care? It's quite obvious whom she cares about these days- those people whom she promised utmost support when she gets elected to her desired position- and I'm not talking about the people who voted for her. And she still has the face to celebrate her birthday with the people. Anyway, her people.
As a gift to Gloria who I loathe most (next to Jinggoy Estrada and Mike Arroyo), the most special gift to offer would be a come-back article written by our very own Ahmad. He's been out for a while, but thank God! He had made his presence felt lately, and is now ready for action. The Katie-Ahmad team-up is complete once again.