Go Jac!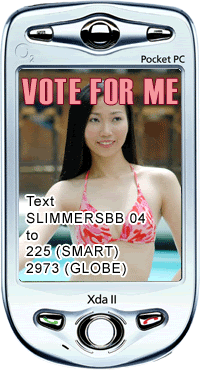 This is my drop-down gorgeous friend,
Jac
. Just looking at this pic, isn't she a winner already? :) But aside from being the epitome of Asian beauty (says my Elmo... grrr...), she's one lass with lots of talents hidden in her... uh... bikini. LOL.
We have to let SLIMMER'S WORLD know how much she deserves to be the Slimmer's World Bikini Bodies 2005 champ. So what are you waiting for?! Get your cellphones and thumbs ready, and text away! Wheee!